A Pleasant Homemade Dinner Among an Iranian Family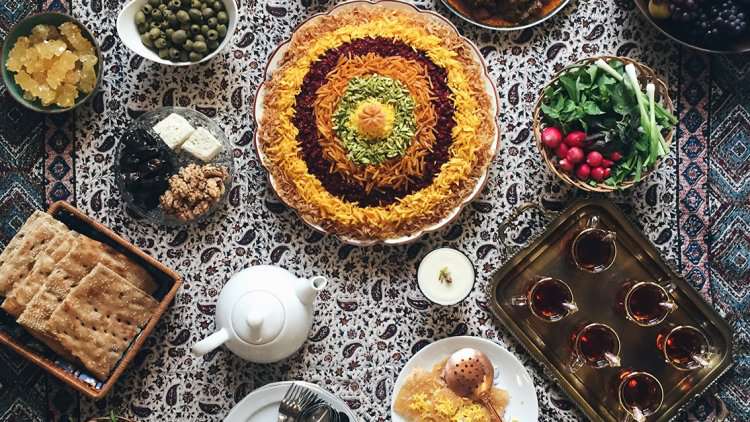 Duration (Hour)

2 hrs

Visiting Time

7 Pm to 9 Pm

Departure Point

At Participant's Accommodation
Highlights
Having Iranian home-made food and experiencing the real taste of Persian cuisine.

Experiencing the living environment of an Iranian family.

Learning to cook some Iranian dishes.
Iranian cuisine is composed of healthy, organic food, giving rise to aromatic, tasty dishes. Among these dishes, some enjoy world fame. For example: Kebab, Gormeh Sabzi (green herb stew), Fesenjan (Pomegranate Walnut Stew), Ash e Reshte (Noodle and Bean Soup), Abgoosht (Lamb Chickpea Soup), Tahchin (Rice Cake), Kufteh (Meatball with Rics) and many others. These dishes are also accompanied by different traditional drinks and desserts, such as Doogh (yogurt and water, known as Ayran in Turkey), Mast (yogurt) and Sabzi khordan (vegetables). But, what makes these dishes more tasty and delicious is Iranian Hospitality. Iranians consider their guests as friends of God and so they are very welcoming and kind to those who step into their houses. In his tour, you can spend one night in an Iranian family and experience both the sweet environment of Iranian families and the delicious taste of Iranian dishes.
What To Expect
Iranian Home, Iranian Home-made Dinner
In this tour, we will take you to the house of an Iranian family to have dinner with them. There, you can sit and chat and have pleasant moments with your hosts. Also you will listen to Iranian music. And, you will be presented with some different Iranian dishes to have as your dinner. However, if you are interested in learning Iranian recipes, you can join the lady of the house to learn methods and tricks to cook Persian food. After dinner, you can help the house lady to clean the table. Finally, after having been served with Iranian tea, you will be taken back to your accommodation. Enjoy it!
Important Information
Additional Info
You will be accompanied by an English spoken guide.

You will be provided with the recipes of the foods.

You will be informed of the food one day before the party.
Cancellation Policy
Bookings missed or cancelled within determined hours will incur a strike against participants as below charges:

Before 48 hrs: 25 %

Before 24 hrs: 50 %

Within 24 hrs: non-refundable