Relaxing & Enjoying in Vartun Hot Sulfur Spring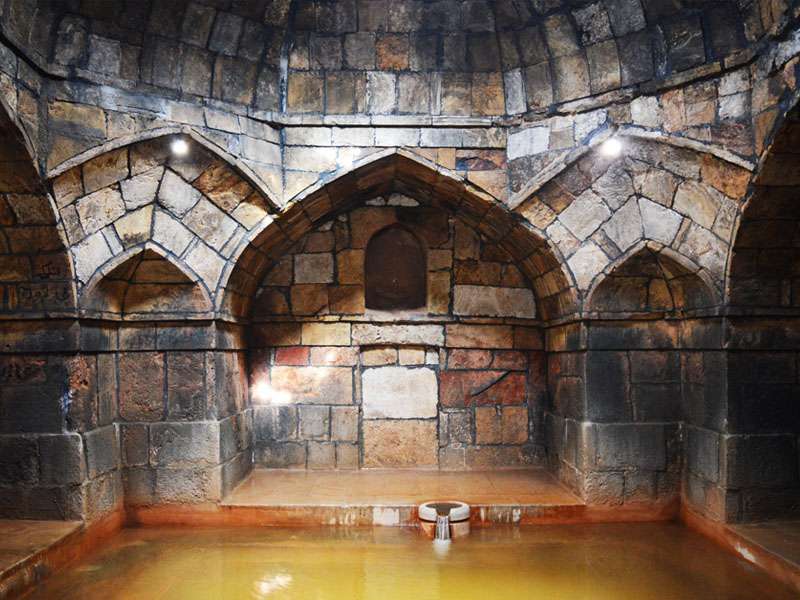 Duration (Hour)

6 hrs_________________________________ Destination: Isfahan

Visiting Time

8 Am to 3 Pm

Departure Point

At Participant's Accommodation
Highlights
You will enjoy horse and camel riding in the site.

You will eat Persian food on traditional serving dishes.

You will enjoy a soak in Vartun natural hot water.

You will relax in geothermal pools and bathing in an old bathhouse.

You will enjoy hiking on rock queries of Travertin and taking photos of them.
Vartun Hot Water as a recreational complex is situated in 70 kilometers away from Isfahan city and is dating back to Seljuk era. This hot water was used by Seljuk Kings as a bath and relaxing place. Vartun is called the first natural stone Jacuzzi and hot tub in Iran. This traditional bathhouse is the only bath with a stone dome and Khazineh (a traditional structure in Iranian bathroom). Furthermore, this bathroom is registered in National Heritage of Iran.
Local people say an epic story about a hero named Toghan Khan Tork who lived in this area when Mongols attacked Iran in Ilkanate era. He was a Traditional medicine practitioner who cured people with the existing minerals and plants. Also, he battled against Mongols to get people's rights. After being dead, locals made a mausoleum to his respect.
Vartun hot sulfur spring is located on the foothills of mountains in the Naien desert. It is an old spring with the approximate temperature of 37 to 40 degree. The water is enriched with different elements such as 12% of Phosphorus, 52% Iron, and 1 ppm of absorbable Gold. The other special characteristic of this area is the wide existence of Rock quarries of Travertine used as building materials.
What To Expect
The tour starts in the morning when you are picked up at your accommodation. We will drive away 70 kilometers from the town for one hour and will find the beautiful resort where you get to relax at the geothermal hot spring baths.
You will be welcomed by drinking a traditional herbal drink. Then, we will introduce you the complex, its history, architecture and the Traditional medicine practitioner's tomb.
You can ride camel, horse or even donkey. There is a farm for keeping these animals and interestingly, the restaurant uses their milk and their dairies for serving its guests.
Afterward, you can enjoy the Iranian bath with its joyful massage. Each bath or Khazine is available for 4 people and separately for men and women. It is notable to say that Vartun Bathroom's design as a Persian bathroom includes vestibule (Hashti), hot chamber (Sarbine), twisting corridors (rahro), bath (Khazineh) and furnace (Toon). The materials used in Vartun traditional bath includes: soap, sefid-ab (white chalk used for peeling), kiseh (thick bag), leef (soft bag), long (pronounced as pong in ping-pong, a piece of cloth traditionally used as towel) and basket. Don't surprise if in the middle of getting bath, a servant serves the traditional drink of Iranians called Sharbat Sekanjebin (Mint syrup) with cucumber. This cold drink will make you fresh, so don't miss it!
After getting bath and massaged, the traditional restaurant and tea house is a good choice for getting rest, drinking tea and eating lunch to recover your energy for continuing your journey in Gole Sorkh Complex of Vartun.
You are coming in the Spring? Don't forget to enjoy the beautiful blossoms of Elaeagnus or Senjed trees which grow due to the saline water coming from the
calcareous soil of the region. On the contrary, if you are coming in Autumn, you will be provided with the fruit of Senjed sold to people and to Pharmaceutical Companies.
In the afternoon take pleasure in traditionally decorated huts and take a good nap. In the winter and autumn, you will see a traditional Iranian Heater which is called Korsi. It is a wooden low table with a heater underneath and covered with a thick and big blanket. Korsi was used by Iranians in cold seasons for family gatherings.
You can enjoy looking at the stars of night of the desert, hearing the voiceless sound of silence and the endless beauty of desert which like looking out over the dunes.
At last, we will take you to the mountains near the huts and Rock quarries to take pictures. But don't forget during your journey to take photos of the beautiful stone dome, the historical tomb of the Medicine, the natural swimming pool and bath, the unforgettable memory of animal riding, the traditional teahouse, the unexpected blossoms and fruits of Senjed and the old designed huts of Vartun which is a must in this incredible tour.
Important Information
Additional Info
You can enjoy horse and camel riding in the site.

You need to book this activity three days prior to the start date in high seasons (March, June, September, October).

You need to inform us earlier if you are a vegetarian.

You can use the huts to rest for a couple of hours.

Your booking will be confirmed via an e-mail including updated prices.

The best visiting time is from Saturday to Thursday. Friday is very crowded due to the Iranian weekend.
Cancellation Policy
Bookings missed or cancelled within determined hours will incur a strike against participants as below charges:

Before 72 hrs : 25%

Before 48 hrs: 50 %

Before 24 hrs: 70 %

Within 24 hrs: non-refundable