Relaxing at the Traditional Iranian Bathhouse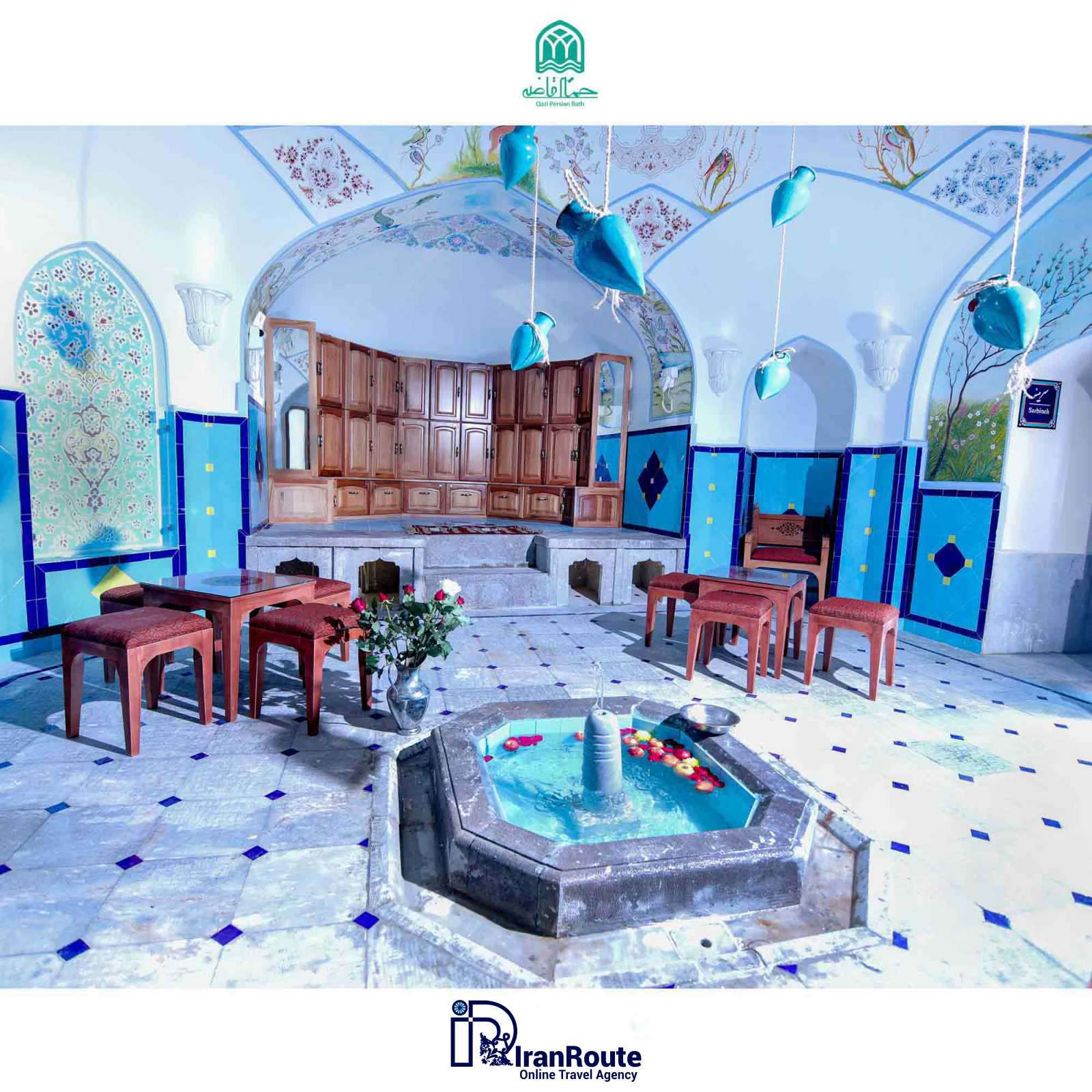 Duration (Hour)

3

Visiting Time

3:00 PM- 10:00 PM

Departure Point

At your accommodation
Highlights
Getting familiar with the traditional Iranian bathhouse

Taking the traditional Iranian bath with special materials

Having a relaxing day
Are you thinking of a little bit of refreshment after days of travelling? Traditional Iranian bathhouse (Hammam, Garmaba), much similar to its counterpart Turkish bath, is one of the cultural and architectural attractions of Iran. Persian bathroom design, with its typical elements, such as: vestibule (Hashti), hot chamber (Sarbine), twisting corridors (rahro), bath (Khazineh) and furnace (Toon), is one of the wonders of Iran. Specially, Persian bathhouse tiles fix the eyes of each visitor. Furthermore, Persian bathhouse customs are among one of the most pleasing experiences you can have after a long and busy day.
The materials used in traditional Iranian baths include: soap, sefid-ab (white chalk used for peeling), kiseh (thick bag), leef (soft bag), long (pronounced as pong in ping-pong, a piece of cloth traditionally used as towel) and basket. In addition, Persian bath-houses had specific social functions. People used to gather in bath-houses, organize their business deals and chat about their daily lives. Concerning washing the body, Traditional Iranian bathhouses had their own customs. First, the body was foamed and scrubbed by a person called Dallak, whose way of preparing the body for being washed resembles the modern day massage. Then, the bath goers went to Khazineh to wash their body with water. For many years, tourists could do nothing more than going to bathhouses and wonder about their structure. However, today, there are several hammams which are ready to offer special services to foreign tourists and give them an enjoyable experience of bathing in a traditional Iranian bath.
The Persian bathhouse has served a variety of purposes throughout its history, other than being a place for taking care of personal hygiene. It used to be a place where high-ranking politicians gathered to discuss state issues. People also gathered in the bathhouse to carry out rituals before or after important events or incidents of life; for example, grooms-to-be were taken to the bathhouse to be bathed by his kin according to certain rituals, new mothers were bathed by their relatives after giving birth, people went to the bathhouse to celebrate the upcoming new year or give an end to a period of mourning after the loss of a loved one.
Ghazi Bathhouse was built around three centuries ago, in Isfahan. Together with a bazaar and mosque, the bathhouse is part of a complex in Shahshahan Neighborhood of Isfahan. During the centuries, the structure of the bathhouse has undergone changes and has even been subject to fire. The bathhouse was renovated in 2019 and offers a unique experience of the traditional Iranian bathhouse to the public.
You can schedule this activity with that of the Passage through Handicrafts' Paradise in the Oldest Neighborhood of Isfahan on the same day.

What To Expect
We will pick you up at your accommodation and take you to the bathhouse, located in the Ghazi Complex. Once in the bathhouse, you will be given a Long and guided around the bathhouse with a guide. Before taking the bath you will be served tea along with different kinds of sweets. Afterwards, a Dallak will scrub and wash your body with Kisesh and Sefidab. After the bath you will get a dry long, which means your experience of the traditional Iranian bath is over. We hope you enjoy this experience.
Important Information
Additional Info
-The bathhouse provides services for men and women at the same time (in different sections)

-The bathhouse can provide services to up to 20 men and 20 women at the same time.

-Groups (more than 5):

Groups larger than 5 people can get services after 4 p.m.

Groups need to book the activity one day prior to their desired date.

Booking must be made 48 hour prior to the intended date for groups wishing to get a service before 4 p.m.

-Groups Less Than Five and Individuals:

Individual visitors and groups less than 5 can apply for the activity whenever, with a cut-off period of 1 hour.

Individual visitors and groups less than 5 can visit the bathhouse starting 3 p.m
Cancellation Policy
Bookings missed or cancelled within determined hours will incur a strike against participants as below charges:

Before 48 hrs: 25 %

Before 24 hrs: 50 %

Within 24 hrs: non-refundable