Amir Chakhmaq Complex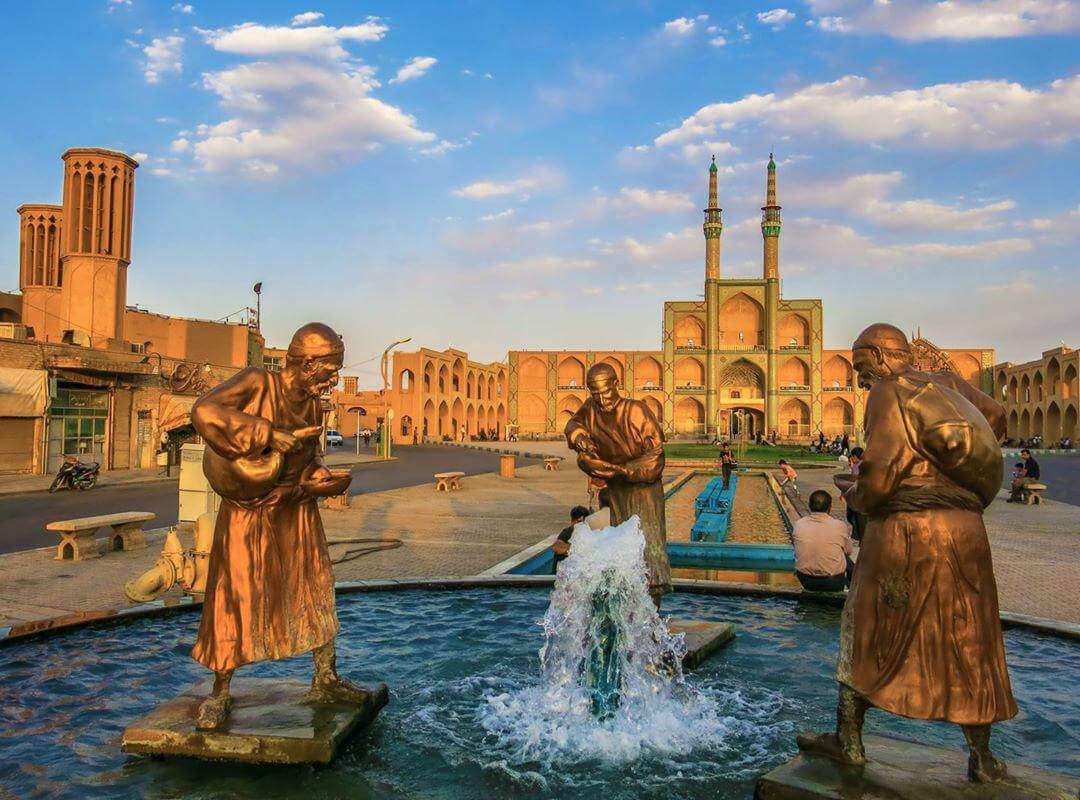 Visiting

Amir Chakhmaq Complex in Yazd

Theme

History and Culture

Code

IRSG98

Duration

1 hr(s)
What To Expect
Watching the exquisite complex of Amir-Chakhmaq, built in the15th century (Timurid era), which includes a mosque, a caravanserai, a bathhouse, a Tekiyeh and a water well.
Explore the Amir Chakhmaq Complex
Amir Chakhmaq Complex
Being a UNESCO world heritage city, Yazd has housed inhabitants since earlier than the 3rd millennium BC. There are plenty of squares in Yazd surrounded by adjoining buildings such as mosques, bathhouses, cisterns etc.
Speaking of the historic city of Yazd and its monuments, the first name which may flash in the mind is Amir Chakhmaq (Amir Chakhmāq) complex. This is the most prominent square in Yazd, built during the Timurid period (15th century). The complex of Amir Chakhmaq (also known as Mir Chakhmaq) is located at the center of the city and is named after its founder, Amir Jalal al-Din Chakhmaq, the Timurid governor of Yazd. He, with the help of his wife Seti Fatemeh Khatun, made great efforts in the direction of developing Yazd and its square and left a remarkable legacy after himself. Later on, Haj Qanbar Jahanshahi, the governor succeeding Amir Chakhmaq, built a caravanserai and a bazaar bearing his name at the eastern side of the square.
Some parts of the complex were ruined until the 17th century and in the Safavid era, some buildings were restored by Bahdor Khan Shams Yousef Meibodi. He built a caravansary on the relics of Amir Chakhmaq Caravansary, and gave his name to it. Much later in the 19th century, the area in front of the mosque was turned into Takiyeh (a place where Shiite Muslim believers gather for mourning). Due to urban development in the Pahlavi era, the square underwent some changes and its western part was destroyed. Thanks to the efforts of Andre Godard, the French architect, the eastern wing of the Tekyeh and the minarets survived. The complex now consists of a mosque on the south, two cisterns on the north and east, a bazaar, and a Takiyeh on the east.
Important Information
Additional Info
The best time to visit the complex begins sunset when the alcoves are lit up, providing a stunning
Visitors are not permitted to enter the upper Takiyeh due to undergoing restorations
The religious ritual of Nakhl-Gardani is performed in the square on Ashura (the date of martyrdom of Imam Hussain). In this well-known ritual, people of Yazd gather in the square and carry the huge wooden tree-shaped structure (Nakhl), a symbol of Imam's coffin. You can see this 450-year-old Nakhl in front of the Amirchakhmaq Complex. It would be worth to visit Nakhl-Gardani ritual on Ashura (the tenth day of Muharram).
Cost Info
Shooli Soup

1 €

Adasi (lentil soup) in Panahandeh Restaurant

1 €

Lamb Liver Kebab in Amirchkhmaq Bazaar

-
Destination

Transportation Type

Transportation Fee

---