Shahcheragh Shrine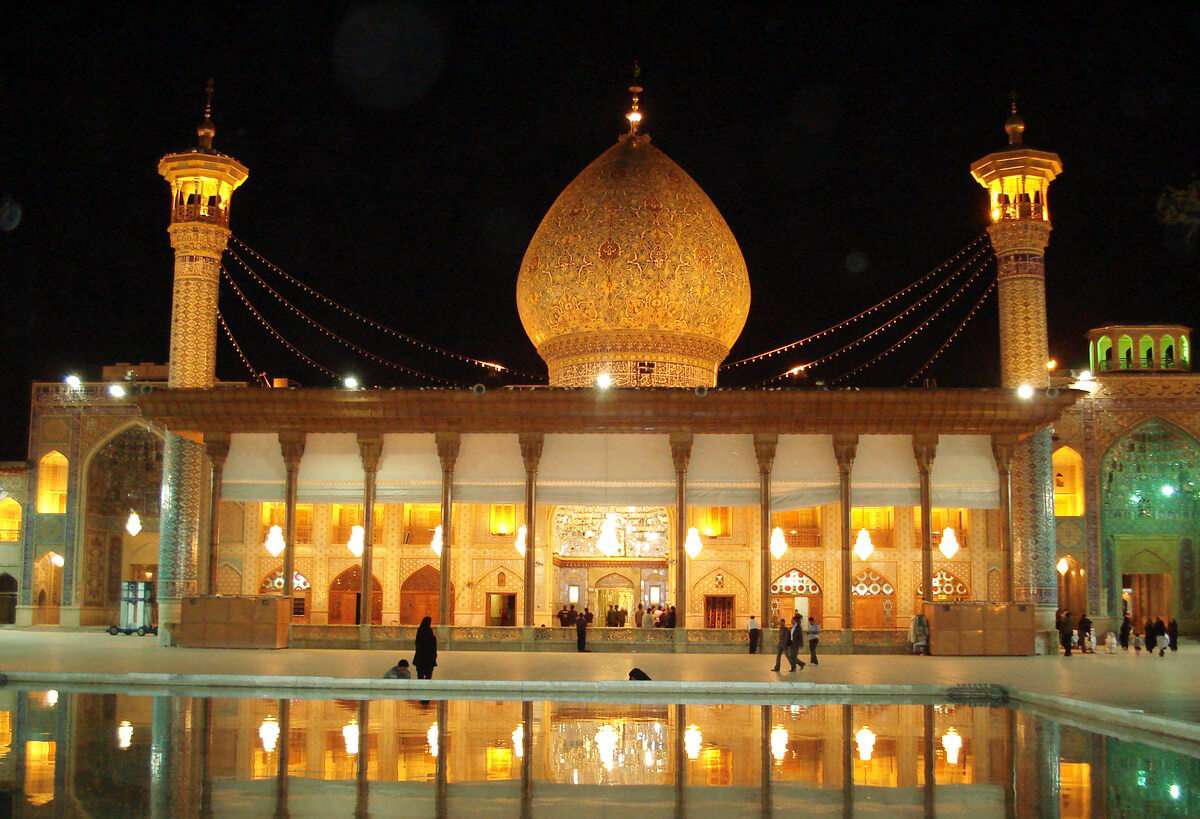 Visiting

Shahcheragh Shrine in Shiraz

Theme

History and Culture

Code

IRSG85

Duration

1 hr(s)

Website

shahecheragh.ir

Tell

071-32131368
What To Expect
Visiting the holy shrine of Ahmad and Mohammad, sons of the seventh Imam of Shia Muslims. The shrine was first built in the 12th century.
Explore the Shahcheragh Shrine
Shahcheragh Shrine
When Sultan Mir Ahmad, one of the brothers of Imam Reza (the 8th Shiite Saint), was killed in 9th century near Shiraz, he was buried there near the tomb of his brother, Mohammad. The first tomb was built in the 12th century, about two centuries after his death, and an extensive magnificent shrine with a huge dome and a theological school were ordered to be built by Tashi Khatoon, mother of Shah Eshaq Injoo. Moreover, she dedicated exquisite manuscript volumes of Qur'an to the shrine. Since then the shrine has been destroyed many times due to the earthquake and other reasons, but it has been restored again and the most notable restoration was during the reign of Qajar dynasty (1785 to 1925).
Being the chief religious site in Shiraz, Shahcheragh Shrine boasts a glorious and noticeable architecture. Having two main lavishly tiled entrance portals in the northern and southern sides, it has a spacious courtyard with a turquoise blue star-shaped fountain pool in the middle and soaring trees around it. Sultan Ahmad's tomb is located at the eastern wing, fronted by a 10-columned porch (ayvan). The original wooden columns are now replaced by the golden-hued steel columns. The structure is flanked by two tiled minarets and topped with a bulb-shaped 72-sided (pieces) dome, a relatively rare dome structure in religious sites of Iran. Inside the porch (ayvan), there is an entrance at the middle leading to the tomb hall while 12 chambers are built in two stories on both sides of the entrance. Inside the shrine, you might see one of the most artistic mirror-works ever. The walls and the ceiling are decorated with millions of tiny pieces of glittering mirror, and the floor is covered by light green marbles. Sultan Mir Ahmad's tomb is enclosed by a silver plated zarih in the dome sanctuary, covered every inch with glazed tiles and sparkling glasses. Mir Ahmad's brother's mausoleum in the southeastern side of the courtyard has a similar structure but is relatively smaller in size.
Established in 1965, the Museum of Shahcheragh showcases valuable collections of pottery vessels including cone-shaped ewers; Sassanid and Parthian coins and several precious manuscript volumes of Qur'an.
Important Information
Additional Info
Non-Muslim visitors can only enter the courtyard
Women are given a veil (chādor) to wear at the gate
Photography without the use of professional equipment (tripod and so on) is allowed in the courtyard.
Cost Info
Lamb neck and rice in Kateh Mas Restaurant

4.5 €

Chelo Kufteh Shirazi (rice and meatballs) in Vakil Restaurant

2.5 €