Si-o-Se Pol Bridge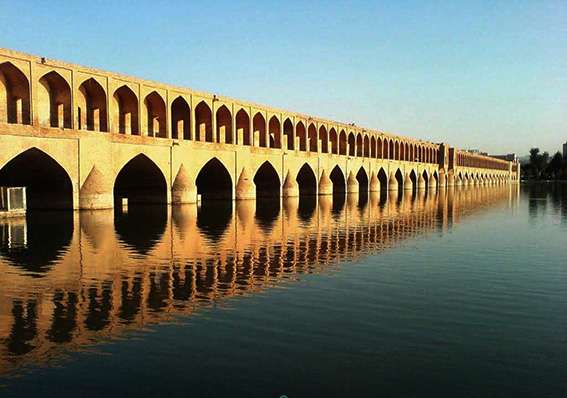 Visiting

Si-o-Se Pol Bridge in Isfahan

Theme

History and Culture/ Spiritual

Code

IRSG8

Duration

1 hr(s)
What To Expect
Watching the longest historical bridge of Zayandeh-Rud dating back to 420 years ago.
Explore the Si-o-Se Pol Bridge
Si-o-Se Pol (Thirty-three-arched Bridge)
If you are in the mood for a long walk and enjoying the riverside, you should take your way towards the East. On your way, you will pass two modern bridges, Pol-e Felezi (Metal Bridge), the oldest modern bridge in Isfahan, which was built in 1959, and Pol-e Azar (Azar Bridge), and then you will get to the Si-o-Se Pol. Si-o-Se Pol was built during six years (from 1592 to 1598), by the order of Shah Abbas I, and at the expense of one of his most distinguished generals, Allahverdi Khan (after whom the bridge is alternatively named). The architect of the bridge was one of the most famous architects of
Isfahan
, Hossein Banna Isfahani. The upper part of the bridge is lined with two protecting walls, decorated with false arches, each one including a corridor which provides a secure space for the passers-by to cross the bridge. Generally, bridges provide the connection between two separate points as a pass-way, but their story is different in Isfahan. They invite you to stop, contemplate and enjoy the scenery. Each span of the bridge forms a framework of Isfahan, making a live movie of the city when all put together. The lower storey includes 20 rooms, which were used by Shah Abbas and his court during the summer and special occasions. Si-o-Se Pol is 295 m long and 14.75 m wide, connecting the upper and lower parts of the
Chahar-Bagh Avenue
. This bridge is the longest bridge in Isfahan, about 2.2 times longer and 3.5 times wider than the
Khaju bridge
.
During the Safavid era, the Abrizan or the Ab-Pashan celebrations were held at this bridge. Also, because of its proximity to the Jolfa quarter, the Armenians held their Khaj-shuyan celebration here. Frederick Charles Richards, a British artist, points out that when you visit Si-o-Se Pol, the memories of all bridges, from Ponte Vecchio in Florence to bridges of London, come alive in your mind. And, Lord Curzon states in his book that it is worthy to travel to Iran, even if it is only for visiting Si-o-Se Pol.
Important Information
Additional Info
Don't' miss the unique view of the illuminated bridge at nights
You can also enjoy the pleasant ambience of Si-o-Se Pol during Iranian New Year holidays (21 March to 2 April) when the traditional Iranian ritual of Norouz is held.
Be especially cautious with kids as you are walking on the edges of the upper level.
Cost Info
Kebab in Parsian Kowsar Hotel

8 €

Ice Pack

2 €
Destination

Transportation Type

Transportation Fee

---