Isfahan Music Museum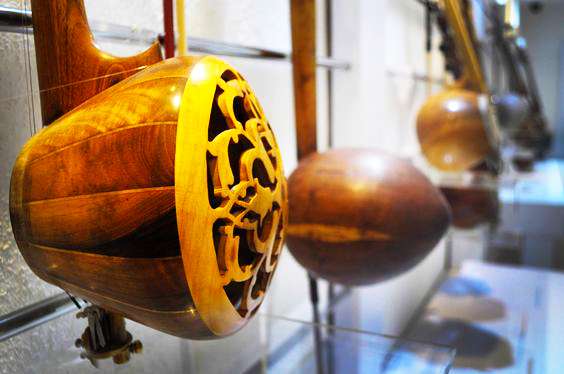 Visiting

Isfahan Music Museum in Isfahan

Theme

History and Culture

Code

IRSG6

Duration

1 hr(s) 30 mins

Website

www.isfahanmusicmuseum.com

Tell

031-36256912
What To Expect
Visiting the newly founded museum opened to the public in 2015;
Listening to the traditional Persian music;
Playing with the unique series of Iranian traditional instruments.
Visiting Time
Spring

9:00-13:00

15:30 -21:00

Summer

9:00-13:00

15:30 -21:00

Autumn

9:00-13:00

15:30 -21:00

Winter

9:00-13:00

15:30 -21:00
* Best Time
Explore the Isfahan Music Museum
Isfahan Music Museum
Located in the Armenian quarter of Jolfa, Isfahan music museum is a gate to Iran's rich musical heritage. For those with a passion for music, it is worthy to spend a few hours in Isfahan music museum far from the bustle of the city. You can find around 300 regional and national musical instruments in this museum, some of them dating back to 150 years ago. Isfahan music museum is categorized based on the variety of instruments, in such a way that the visitors start from the hall of national instruments, and continue to the hall of regional instruments. It also includes two more sections: the home of Iranian traditional music and the instrument factory. Isfahan music museum houses some instruments as intricate as those pictured in old miniatures, bearing some unique adornments. Along with their musical importance, the delicate adornments of these instruments are of high importance. Some examples of these instruments are the inlaid Tar of Mr.Zamani, the turquoise Setar of Mr.Shegarfi and the wooden Tonbak of Mr.Qazi Asgar. Have a close look at Kamanche and Tar, two sources of inspiration for Violin and Guitar respectively. In this cozy, pretty museum, in addition to visiting, trying and playing the traditional instruments, you will experience an intimate live performance by highly skilled masters of various musical instruments. This unexpected delight of Persian music, and the provided romantic vibe, will immerse you in Iran's art and culture. A new collection is added to the museum, form the donated musical instruments sent by international visitors.
At the end of your visit, a cup of coffee or tea, while enjoying some relaxing music, is waiting for you in the cozy courtyard.
Important Information
Additional Info
A photography room is provided where visitors can wear Persian traditional cloth and take a picture holding an Iranian musical instrument
Visiting the site should be arranged in advance for group tours
You can browse the museum with the professional guides available there (English and French language guides are always available, and Polish, German and Italian language guides are available only in high seasons)
Professional guides are available in the museum for individuals or group tours
The Museum is offered the possibility of touching and playing the instruments, so blind visitors will also be able to experience the instruments
You will enjoy the live music performance by professional musicians in the museum for free.
Cost Info
Kashk Bademjan in Firooz Tea House

5 €

Traditional Beverages in Firooz Tea House

4 €

Arabo Sandwich

3 €

Penn Rigate or Pasta in Hermes Restaurant

7 €
Destination

Transportation Type

Transportation Fee

---