Sheikh Lotfollah Mosque (Lotfollah Mosque)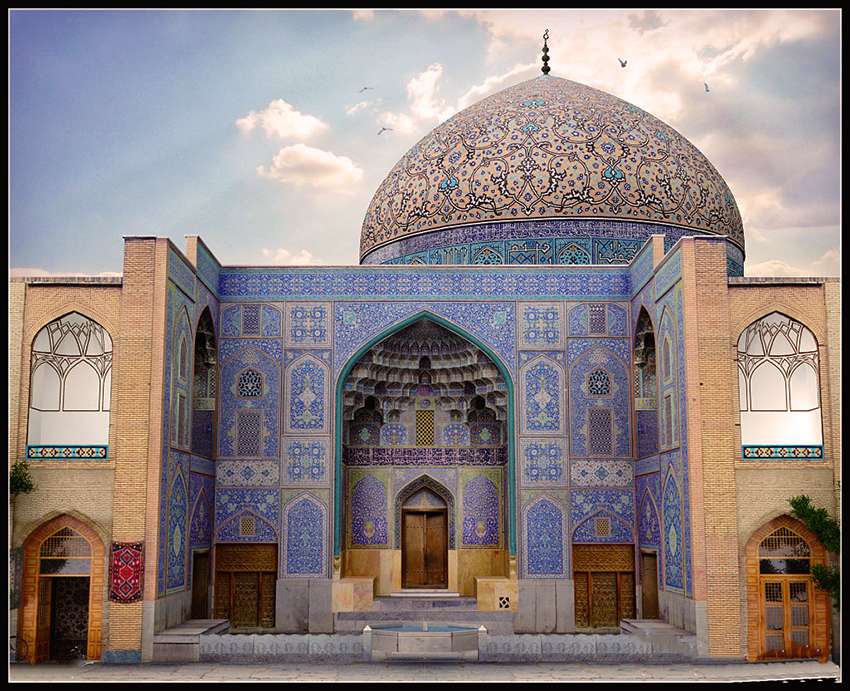 Visiting

Sheikh Lotfollah Mosque (Lotfollah Mosque) in Isfahan

Theme

History and Culture

Code

IRSG12

Duration

1 hr(s)
What To Expect
Visiting the splendid mosque on the eastern side of Naqsh-e Jahan square. A Safavid mosque notable for its exquisite tile works and eye-catching interior decorations.
Visiting Time
Spring

9:00 -12:30 *

14:00 -18:00 *

Summer

9:00 -12:30 *

14:00 -18:00 *

Autumn

9:00 -11:30 *

13:00 -16:00 *

Winter

9:00 -11:30

13:00 -16:00
* Best Time
Photos of the Sheikh Lotfollah Mosque (Lotfollah Mosque)
Explore the Sheikh Lotfollah Mosque (Lotfollah Mosque)
Sheikh Lotfollah Mosque (Lotfollah Mosque)

Not aligned perpendicularly to the square's eastern wall, and put a little way back, you can find the entrance to Sheikh Lotfollah mosque. What captures your attention when you look at the entrance, is the lack of minarets and the asymmetry between the dome and the portal. Based on the inscription around the entrance portal, the mosque was completed in 1604. Before you enter, have a look at the exquisite door which is a 400-year monolith plane tree. When you enter the mosque, turn right and wait for some seconds to get your eyes accustomed to the shadowy corridor laid in front of you. Then, go on walking through the tiled garden of flowers up to the end of the corridor, where you enter the main dome chamber. The dome chamber mesmerizes you by its architecture, its unique style of tiling and its specific way of lighting. Have a look at the 32 m high dome and the dance of lights, through its 16 latticed windows, which draws a peacock before your eyes! Also, do not miss the altar (mihrab). Besides its special tiling and beauty, on one side of it you can find the name of the architect of the mosque, Maestro Mohammad Reza Esfahani, and on the other side of it, you can read the date of its completion, 1619. There are masterpieces of calligraphy written by Reza Abbasi, the famous Safavid artists, around the dome reflecting the rituals of entering the mosque and some Quranic verses. There are 32 diamond shapes around the dome getting smaller as they get close to the apex and finally turn into one point. Sit on the ground for a while and let the splendor surrounding you slip into your soul. The tilework and decorations are so exquisite that elicited the admiration of many scholars. For instance, professor Pope described it as the display of excitement and repose.
On the way back to the entrance, go down to the basement to find the oldest dated tile inscription of the mosque.
Important Information
Additional Info
During the prayer times, the mosque is not open to the visitors
The best time to witness the color change of the dome from cream to pink is at sunset.
Cost Info
Traditional saffron ice creams around the square

2 €

Persian tea in Rozegar Teahouse

2 €

Dough (yoghurt drink) and Gooshfil (a kind of sweet) in Rozegar Teahouse

3 €

Beryani in Naqsh-e Jahan Restaurant

4 €

Gaz (Traditional sweet of Isfahan)

5 €
Destination

Transportation Type

Transportation Fee

---