Shesh Badgir Ab Anbar (Six-Wind-Tower Cistern)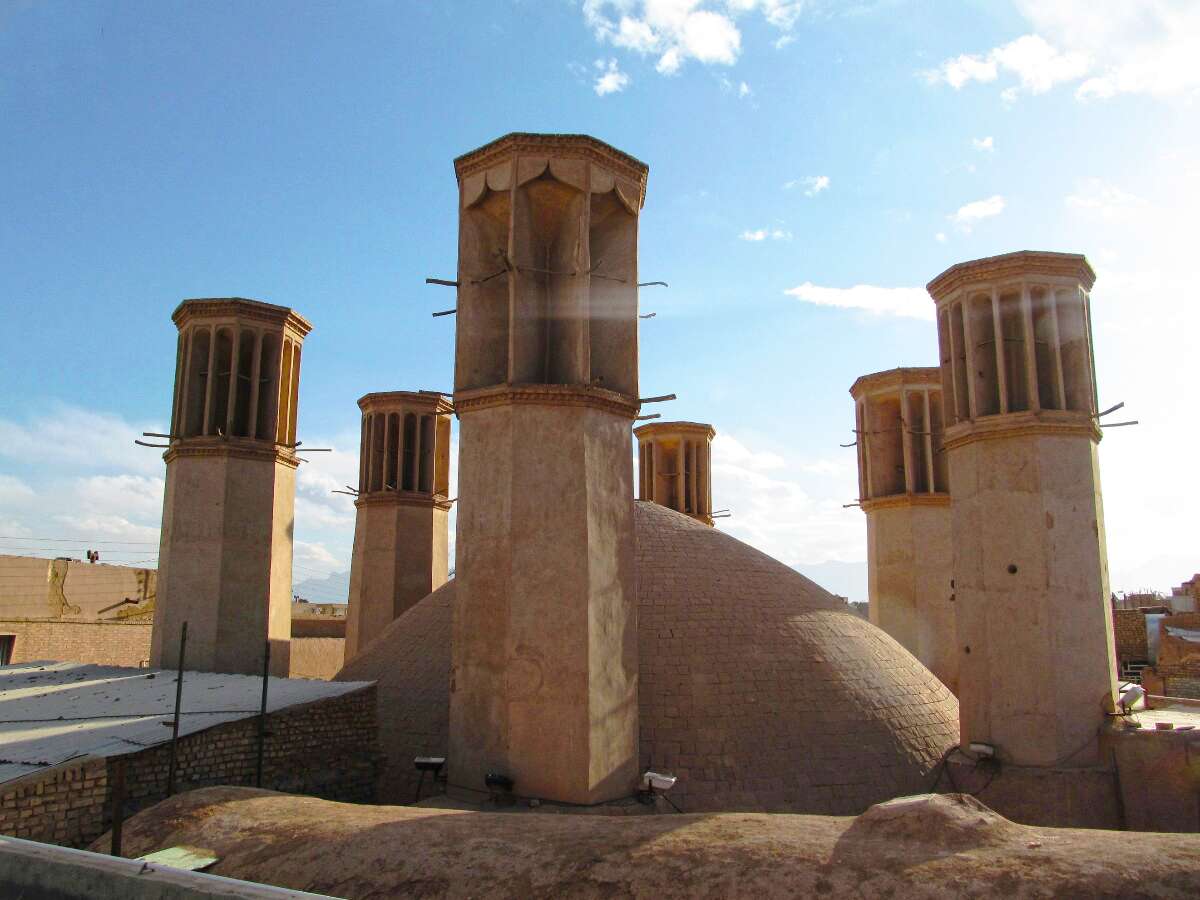 Visiting

Shesh Badgir Ab Anbar (Six-Wind-Tower Cistern) in Yazd

Theme

History and Culture

Code

IRSG103

Duration

30 mins
What To Expect
Visiting a water cistern from the Qajar period, consisting of six wind towers (shesh badgir).
Explore the Shesh Badgir Ab Anbar (Six-Wind-Tower Cistern)
Shesh Badgir Ab Anbar (Six-Wind-Tower Cistern)
Located at the heart of Iran's central desert, Yazd is a prominent example of Iranian cities housing traditional cisterns, with around 100 cisterns (Ab anbar) throughout the province. Ab anbars are typical architectural structures in the desert cities of Iran, made of terracotta brick, and a type of strengthened mortar called dimeh (a combination of lime, ash, and sand). Thanks to their notable architecture and interesting mechanism, these structures have become appealing tourist attractions in Yazd. Because of the climate and wind direction, the wind towers of Yazd are usually octagonal in shape. Circular layouts covered with high domes and underground pools (khazineh) are among the main elements of the public Ab-Anbars in this city. Other elements include the entrance, stairways (pashir) leading to the pool, and one or more badgirs (wind towers) functioning as ventilators and air conditioners to keep the water fresh and cool. Generally speaking, cisterns in hot parts of Iran are known to have one to six wind towers.
On the northern side of Shahid Beheshti Street, there is a 180-year old Qajarid Ab-Anbar, named Ab Anbar-e Shesh Badgir (literally Six-Wind Tower Cistern). The original structure was built with three ventilators on the top; three other ventilators were added later. This large cistern with a capacity to hold over 2000 cubic meters of water and two stairways, enjoys exclusive features such as a 6.12-meter high water reservoir, a staircase consisting of 55 steps (there is a brick-paved octagonal chamber between 25th and 26th steps), and 10-meter high wind catchers. The vaulted brickwork entrance will fascinate you with its intricate and beautiful design. The structure can be entered through two entrances located on its northern and southern sides. In addition to this, the cistern has two taps, one for the use of Muslims and the other for the Zoroastrians who comprise the religious minority of Yazd. This cistern is probably the most intricate example of the cisterns equipped with ventilation chambers.
Among other cisterns in Yazd, we can name Masoudi Ab-anbar dating back to the first Pahlavi era, located on the southern side of Shahid Rajaei Street, Haj Yousef Ab-anbar a Qajarid mud-brick cistern in Qiyam Street, and Khajeh Cistern which has six wind towers, located at the beginning of the copper bazaar.
Important Information
Additional Info
Visiting the cistern is free of charge
It is open from 7:30 AM to 8:00 PM
Cost Info
Mirzaghasemi in Dad Hotel

-

Yazd Traditional Dishes in Dad Hotel

-
Destination

Transportation Type

Transportation Fee

---