Visiting Isfahan's Must-See Tourist Attractions in No More than Two Days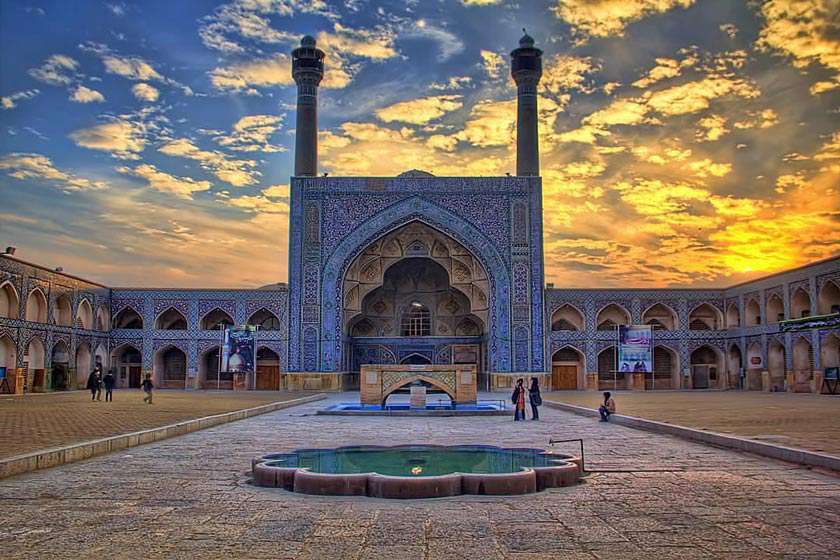 Duration (Day)

2 Day(s)

Visiting Time

8 Am to 5:30 Pm

Departure Point

At Participant's Accommodation
Highlights
Gaining a preliminary knowledge of the history of Delamid (10th century), Saljuq (10th-12th centuries) and Safavid (16th-18th centuries) dynasties in Isfahan.

Visiting different monuments belonging to different historical eras as mentioned above and becoming familiar with their architectural differences.

Visiting different monuments belonging to different historical eras as mentioned above and becoming familiar with their architectural differences.

Visiting Isfahan's music museum and also one of the Zoor-khanehs (Iranian traditional gym) located in this city and becoming familiar with Iranian music and one of the most traditional sports in this country.
In this tour, we will go on a journey to the depth of history, art and culture by exploring the ancient city of Isfahan; the third largest city of Iran whose old womb has given birth to such unique historic, artistic and cultural wonders which keep this city forever young.
These wonders include: the brick remains of Deylamid monuments (ca 10th century), the soaring watch-towers of Seljuq period (ca 10th and 12th centuries) and the high-rising, turquoise-colored domes of Safavid dynasty. In addition, the eye-catching soulfully wrought handicrafts created in this city tell stories which reveal the delicate souls of the people who produce them.
If you think the wonders of this tour are attractive enough, it is just one click away from you. To book your unique two-day tour of Isfahsn, you only need to click on Check Availability … as simple as that.
Also, keep in mind that this tour is one of the most economical and affordable types of its kind you can find in Isfahan. Actually, by participating in our tour, you will save up to 60 euros and one day for exploring the city.
What To Expect
In this two-day tour, IranRoute is going to take you to more than 20 must-visit and other lesser known attractions in Isfahan and its professional local guide will give you valuable information about the history, architecture and handicrafts produced in this city.
In addition, we have plans to make you familiar with Iranian music and also the archetype of traditional Iranian sports, known as Varzesh-e Bastani performed in Zoorkhaneh.
IranRoute's two-day tour of Isfahan is designed based on a comprehensive plan to introduce the must-see tourist attractions in this city.
Day one:
On the first day, we will talk about Safavid history and show you the most famous monuments they have built in Isfahan and at the end of the day, we will go to Isfahan's Music Museum. There, you will experience a lively environment replete with various musical performances and gain a basic knowledge of musical instruments traditionally played in Iran. When everything is said and done, we will take you back to your accommodation and, thus, ends the first day of our tour in Isfahan.
We will Visit:
· Having lunch in a nice and pleasant restaurant
· Qeysarie Bazaar and Timcheh Malek
· Different types of handicrafts produced in Isfahan.
· Royal Oil-Seed Extraction Workshop (Assarkhaneh Shahi)
· Hakim Mosque & its grand portal from the Deylamid period
Day Two:
The second day of our tour is a little busier than the first one. We begin our expedition by visiting a mosque which is considered as a museum of Iranian architecture. Then, you will learn about Iranian baths and traditions of bathing in Iran. Next, we have the opportunity to know a humble Dervish and watch his extraordinary tomb. Then, we will explore the Armenian neighborhood of Isfahan. Pigeon towers are special monuments which can be found nowhere but in Iran and we have plans to introduce them to you. The old graveyard of Isfahan and the Safavid bridges on Zayandehrood are our next destinations in this tour. Finally, you will be taken to a Zoorkhanen and there you have the chance to visit the heroic traditions associated with the archetype of traditional Iranian sports, Varzesh-e Bastani.
On the second day, we will visit:
· Monar Jonban (Shaking Minarets of Isfahan)
· Having lunch in a cozy restaurant
· Takht-e Poolad Graveyard and Tomb of Rokn-al-Molk
Important Information
Additional Info
Your booking will be confirmed via e-mail including updated prices.

We reserve the right to impose changes on prices due to the economic fluctuations.
Cancellation Policy
Cancellation of booked tours 2 months prior to the trip requires no charges. In the event of cancellations 30-20 days prior to the trip, 30% of the entire booking fee will be reduced. For cancellations under 20 days prior to the trip, no amount of the booking price will be refunded.